Mondo® Commercial Flooring
---
Profile
|
Website
In commercial flooring as in sport flooring we focus our research on creating products that are ergonomically correct for the human body. Once we deliver on that front we play with colors and designs to achieve aesthetically pleasing results.
Athletic Surfaces: Athletic Surfaces, Basketball Court Surfaces, Gym/Fitness Center, Multi-Purpose Court Surfaces, Running Track Surfaces, Tennis Court Surfaces


Superior Floor
---
Profile
|
Website
|
What's New
Now more than ever, architects, athletic directors, school board members, and recreational business professionals are asking for superior quality when looking for a maple sports floor surface. A superior performance starts with a Superior Floor. The leader in hardwood maple sports floors!!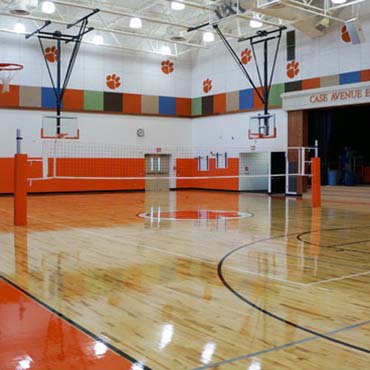 Action Floor Systems®
---
Profile
|
Website
Action Floor surface maple comes from trees grown exclusively in northern Wisconsin and Upper Michigan, the best grade available. And the most desired, due to its unsurpassed beauty. The long, often bitterly cold northern winters and brief burst of glorious summer somehow provide the perfect climate for these trees. And the perfect wood for your gym.


Hollman Athletic Floors
---
Profile
|
Website
Hollman, Inc., the worlds leading manufacturer of plastic laminate and wood lockers, panelized racquetball and squash courts, and athletic wall systems; are excelling in every area – from detailed craftsmanship and innovative designs to their unparalleled durability!