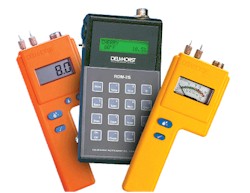 Moisture is one of the most important factors affecting the quality of so many different products. Delmhorst Instrument Co. recognizes the impact of moisture and has devoted the past 50 years serving industries that depend on our products and services to minimize moisture-related problems.
Since the beginning, Delmhorst has specialized in pin-type moisture meters that utilize the relationship between moisture content and electrical resistance of the product being tested. This technology provides consistent, accurate readings to provide you with useful information about the moisture level of your particular product.
Why our customers keep coming back?

PRODUCT ASSORTMENT: Delmhorst is the only manufacturer of moisture meters that effectively serves so many markets. We also offer the widest variety of models within each industry. This allows greater opportunity for more customers to find a model that's exactly right for his/her particular needs. Key markets that Delmhorst serves include:
Lumber & woodworking
Hardwood flooring
Building contractors and home inspectors
Water Restoration
Agriculture — Hay, Grain, Soil and Cotton
Paper
Leather
Our strong presence in each of these industries enables us to continue to put necessary resources into product development, personnel development, dealer support and marketing.
QUALITY STANDARDS: Our years of experience enables us to offer customers top quality moisture meters at competitive prices. All we do is manufacture high quality moisture meters that customers can trust and use with confidence. You'll discover we constantly strive to provide you with products that are reliable, easy to use, and will give you years of trouble-free use.
SERVICE: For a company to succeed, a superior level of service is required -even if that company offers the best available product. Since 1962, Delmhorst Instrument Co. has been owned and managed by the Laurenzi family. We instill a strong sense of ownership in our entire team that starts with top management.
We spend the time to identify each customer's needs, and respond with the product and level of service that meets those needs. Our team of trained customer service representatives also provides after sales support that is unparalleled in our industries.

Delmhorst is also committed to supporting the efforts of our strong dealer network. We continually work with distributors to train them on the proper use of our product and encourage them to carry the right product assortment for their customer base.