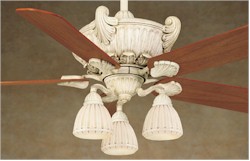 What to Look for in a Quality Ceiling Fan
While some ceiling fans may look similar at first glance, there are important differences to consider if you are seeking quality, lasting performance and value. Take a close look at the originality and authenticity of design. Compare the quality, performance, durability and warranty. Have your dealer show you the important quality differences at the Casablanca display center in your store.

The Casablanca Difference: Quality in Every Detail
Casablanca stands alone in its approach to the design, engineering and manufacturing of ceiling fans. We have made a long term commitment to quality and invite you to compare every feature of a Casablanca fan to any competitive product. Every detail is given meticulous attention from design, to components and manufacturing, to ease of installation. Casablanca's attention to detail adds value to every fan, providing unprecedented performance for the life of your investment.