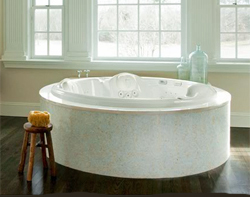 Aquatic Industries, Inc. combines luxurious features with superior construction to offer the ultimate hydrotherapeutic whirlpool bath available. Aquatic's extensive selection of seven unique series provides an unbeatable range of shapes and sizes for any decor or budget. From the captivating Millennium Series to the economical Builder Select Collection, Aquatic has the relaxing bath you have been dreaming about.
Aquatic pioneered hydrotherapeutic whirlpool technology!
Most manufacturers' tubs are designed to simply circulate water with mini eyeball jets that only reach the lower half of the torso. Aquatic engineers were the first to combine "spa-style", variable-pattern, rotating and pressure-adjustable jets to target areas affected by stress and muscular discomfort. Aquatic jets deliver deep, penetrating massage to the neck, shoulder, upper and lower back, leg and feet areas. With this unique combination, you can expect a full-body, true hydrotherapeutic experience every time you bathe.