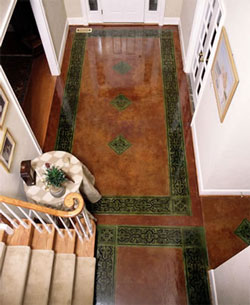 For over 30 years, architects and installers worldwide have recognized BRICKFORM as the leading manufacturer of texturing systems. Strict quality control standards are the cornerstone of our manufacturing philosophy and the reason BRICKFORM is a trade name that means precision and durability.

Now BRICKFORM has a new tradition to build upon. On May 30, 2008, Solomon Colors was pleased to annouce the purchase of BRICKFORM. Both Solomon Colors, Inc. and BRICKFORM, Inc. have been family owned businesses with a history of providing quality products and service. The combination of BRICKFORM and Solomon will create a new, stronger, stable, and more vibrant company to serve the iron oxide pigment and decorative concrete markets.

Both teams are dedicated to providing the best quality and value for every product that we sell. We listen to our customers and are constantly striving to update technology to develop new products that are competitive and perform better on the job.

We invite you to explore the complete line of BRICKFORM Products and to contact our Technical Representatives for more information and our Inside Sales Department to get samples or to place an order.