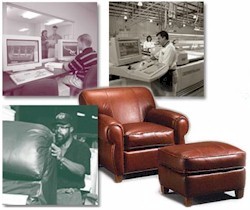 A commitment which began in 1976 in Blue Mountain, Mississippi, continues today. BenchCraft is a manufacturer and marketer of quality upholstered furniture and occasional tables styled and designed for real comfortable living... it's about everyday life.
Dedicated to the interior home environment, and targeting the largest consumer segment BrenchCraft's extensive product line is merchandised, market and sold through distribution channels, which attract a wide array of consumer lifestyles and life stages. Our consumers are from many walks of life and include diversity in age, race, gender and income.
We enjoy the success of a broad consumer base and yet find the heart of our business, our target consumer to be the thirty-something - a growing family, experiencing the challenges and joys of everyday life at home.