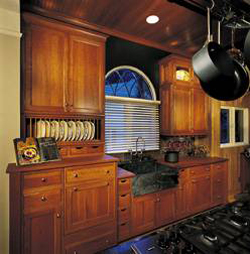 Crystal Cabinet Works, Inc. began in 1947 at 70 Willow Street, Minneapolis, MN by Tom Hammer as a custom cabinet shop producing cabinets primarily for the builder trade. In 1949, Tom moved the shop to a northern suburb, Crystal, and the company formally became known as Crystal Cabinet Works, Inc.

Crystal has been resilient and dynamic throughout it's 56-year history and continues to offer some of the finest cabinetry in the industry from two manufacturing locations to dealers nationwide.

As Crystal continues to explore new cabinet markets, we are determined to offer the finest in custom cabinetry design available today - and in the future.