Call
Tel: 604-855-3654
Fax: 604-855-7834
Write
Phantom Mfg.
30451 Simpson Rd.
Abbotsford , BC V2T 6C7
Canada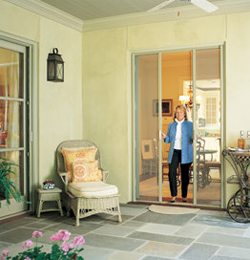 A fine home engages the senses. Individual textures and smells, sounds and sights coalesce to yield experiences that define and distinguish your home. The cool floral breeze on a hot summer's day; the view of the garden from your study; the friendly ambiance of the front entrance, are all experiences as distinct as your signature.
At Phantom Screens, our focus is to preserve and enhance these experiences without compromise. That's why we have created a retractable, designer screen solution with all the functionality of traditional screen doors. Our screens never diminish the view of your home. Instead, they smoothly, silently, simply disappear when you don't need them.
Seeing is Believing.
Phantom Screens are at home in any setting. Their innovative design and tasteful styling fit with any room you choose — kitchen, front entry, living room, study, bedroom, or bath. They're a perfect blend of form and function.
Your home's entrance is one of its most distinctive features, so you want a screen that will match its elegance. Phantom Screens mount smartly to the frame of any in-swing or out-swing door in your home. From afar, you can barely see this perfect screen solution.
Outside, the garden is a magnificent panoply of color, filling the air with exquisite scents. In this home, double French doors throughout open onto the garden. Twin Phantom Screens, subtly positioned on each side of the door frames, remain invisible until you need them. When needed, Phantom Screens provide a clear view while blocking the path of unwelcome pests.
This home has striking views. From within, the doors and windows reveal a breath-taking pool, a golf course and the ocean. From without, the spectacular design pleases the eye and inspires the senses.
Traditional door and window screens would obstruct these impressive views. Phantom Screens have the versatility to enhance them, ensuring that your family and guests enjoy their full splendor. Our screens' retractable design means they are only there when you need them.