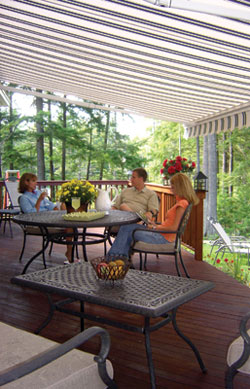 We are the millers, the frame cutters and the sewers that craft your awnings. While others flaunt their purchasing power of factory direct prices, we are the Real McCoy. We are Futureguard Building Products Inc., manufacturers of your NuImage. We enjoy our awnings in our homes and we are always thinking up ways to raise the bar. That is the product of being family-owned, with three generations in the business.

Crafted in our state-of-the-art, 163,000 square foot facility, our awnings and canopies are built from the finest materials and are designed for easy installation. You'll know you're ordering from the largest awning factory in the country when your custom order ships quickly. We warranty all of our products and are proud to provide 100% customer satisfaction.

It doesn't end with a purchase: when you bring NuImage home, you bring a team of experts with you. We're always here to assist you in determining your needs, to walk you through our selections and to guide you through technical questions. Our nationwide network of authorized dealers and installers are available to consult on measurements, designs and estimates.

Craftsmanship and professionalism have earned us the trust of the nation's leading retailers. We think you'll find we're a fit for you too.