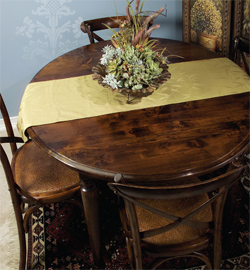 The story behind IMAX Corporation is a tale of hard work and determination resulting in great success. What Al and Faye Bulak started in 1984 as a small company importing copper flower containers has grown into one of the top U.S. import companies serving the At Home market. Today with over 38,000 customers, 128 road reps and product showing in 20 showrooms worldwide, IMAX continues to provide home and garden accessories imported from 12 countries around the globe. Our 500,000 square foot distribution center and corporate headquarters encompass 4 state-of-the-art fulfillment facilities and house around 165 full-time employees. Additional sourcing, product development and showroom facilities in the USA, India and China truly make IMAX a global source.
 
With the recent addition of Trump HomeTM Room Décor, the Carolyn Kinder Collection, IMAX Trends and the expansion of our Seasons and Celebrations collection , we provide product designed to meet your needs. Our designers and product development team push creativity, taste and fashion trends – layering styles, periods, textures, and regions of the world – to create a visually delightful and meaningful environment. We believe style, integrity, and great design can make living easier.
 
It is our goal to make your IMAX experience positive, easy and convenient. In a world of technological advances, we are continually improving our customer service through innovative online features which bring IMAX to your fingertips. Our website is designed to be an effective tool for our customers and we are pleased to include you in this endeavor. As a valued customer, you may place secure orders online with our new and improved dynamic catalogs, or as a new customer, you may request a print catalog through this website.