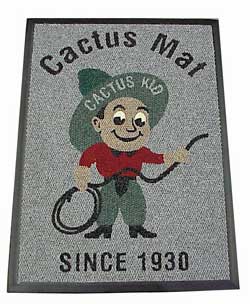 Cactus Mat has served the commercial market with quality products since 1930. We offer the widest selection of products with over 2,000 styles, colors, and sizes from which to choose. We offer standard sizes as well as CUSTOM options available to meet your specific needs.
Our customer service staff is available to offer recommendations, come out and measure, assist with pricing and send out free sample pieces. We specialize in kitchen mats, anti-fatigue mats, logo mats and other specialty flooring items.
If you need to protect your floors, provide safety, improve worker productivity or beautify your entrance – our mats will meet and exceed your requirements.