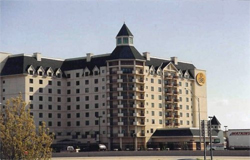 Call
Tel: (800) 322-9257
Fax: (918) 272-2517
Write
Advantage Buildings & Exteriors, Inc.
9741 East 56th Street North
Tulsa, OK 74117-4017
United States of America
Online
ADVANTAGE Buildings & Cladding specializes in cost-effective interior or cladding solutions that give customers more options and greater design flexibility. Many of the products from Advantage are proprietary, developed by the company. From our ready-to-install panels to complete, factory-made studwall systems, ADVANTAGE products are all designed to work together to help you create any look or effect you can imagine.

So let your imagination soar. If you can draw it, we can deliver the materials you need to finish the job - quickly, easily and hassle-free.

ADVANTAGE: Design & Technical Support. The ADVANTAGE team can help you implement a corporate image that's right for your company. Count on our experienced staff to help you find the right products for your project - and creative, value-maximizing ways to use them. Simply give us a call!

For nearly 50 years, the people at ADVANTAGE Buildings & Cladding have provided innovative cladding wall panels and components to the construction industry.

ADVANTAGE panels are the answer when you need a non-metal, economic, fast track option to conventional construction. ADVANTAGE panels are factory finished and require no field finishing.

Panels are available as individual panels in stock sizes, or as composite wall units consisting of light gauge, structural steel frames with factory finished Cladding. Composite wall sections can be as large as 9'-0" x 28'-0", can have multiple finishes, and openings for doors and windows may be framed within panels. In addition, composite wall framing can be load bearing if needed.