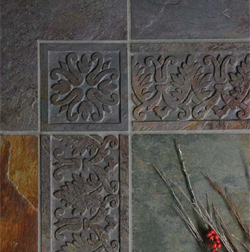 Call
Tel: (512) 355-2722
Fax: (512) 355-2752
Write
Antiquestone, Inc.
PO Box 434
Bertram, TX 78605
United States of America
The co-founders of Antiquestone, Inc., producer of StoneArt decorative accents, draw from combined experience of more than 90 years in the tile and stone industry. As long term observers of the marketplace for tile products, they noticed increased consumer preference for the elegance of natural stone floors, walls, and counter tops. The absence of a source for affordable natural stone decorative accents was the inspiration for the introduction of StoneArt.

As the nation's leading producer of engraved listellos, decorative inserts, medallions and murals, StoneArt's design portfolio is unequaled. With an old world commitment to quality and customer service, the finest granite, marble, slate and travertine is fashioned into StoneArt. Browse the catalog for a motif suited to your project or consult with StoneArt for a custom creation. Mother Earth provides the pallet for your artistic expression…
StoneArt accents provide the finishing touch.