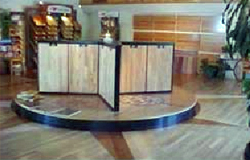 Write
D-Lux Hardwood Floors
7330 SW Macadam Avenue
Portland, OR 97219
United States of America
With over 27-years of experience and product knowledge in the wood flooring industry, D-Lux Hardwood Floors is the premier retailer and distributor in the Pacific Northwest for environmental and sustainable products.

D-Lux sells its full range of flooring products, equipment and supplies to contactors throughout the Pacific Northwest, including builders looking to meet U.S. Green Building Industry standards as well as to environmentally responsible customers seeking flooring options for their homes.

The combined experience of our hardwood experts spans the entire wood flooring industry, from the manufacturing process to installation and floor finishing. And, our staff is always learning the latest techniques as new advances in the wood flooring industry occur.

In 1980 Doug Lux (certifications) started D-Lux Hardwood Floors. We are licensed and bonded in Oregon and Washington. As active members of the National Wood Floor Association and Oregon Remodelers Association we guarantee our workmanship for one full year.