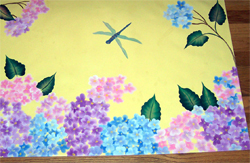 Write
A Brush With Art
502 Waterside Court
Canton, GA 30114
United States of America

Floorcloths have been used in homes throughout the United States for hundreds of years. Originating in 14th century France, painted oil cloths were used as decorative wall hangings and table runners. The British then took this art form and began painting canvas for use as a floor covering.

Early American settlers wanted to decorate their new dwellings so as to remind them of their homes in England and other places across the sea. Because resources were limited, early settlers used the worn sails from ships to make coverings for their dirt floors. Using either hand-cut stencils, freehand painting or a combination, these settlers gave them the patterns and colors that they missed from back home. These canvas floor coverings were sealed with varnish to give them durability and became known as floorcloths.

Today hand painted floor cloths are a great way to add a unique piece of art to your room. Floorcloths from A Brush With Art are artistically designed and durably constructed to give you years of enjoyment, not to mention a unique and attractive conversation piece.

To ensure quality each painted floorcloth is measured and cut from pre-primed canvas and then hand painted using artist quality acrylic and latex paints for vibrant color and durability.

Some floorcloths have a solid color background. Other floorcloths have multi-color blended backgrounds. Still others have many layers of translucent colors.

Each piece is then painted freehand or stenciled or a combination of the two, depending upon the design requested. If you have a particular pattern or stencil in mind please send it to me to use on your floor cloth or wall hanging.

Of course, special occasions make personalized floorcloths a wonderful gift or keepsake. Imagine having the place where your wedding vows were exchanged hanging on your wall, personalized with your names, date and a painting of your bouquet or hand lettered with personalized vows.

Each hand painted floorcloth is protected with at least 3 layers of a clear, non-yellowing, sealer that is specially designed for floor cloths. It is flexible, unlike sealers for hard surfaces such as wood.

Finally, a protective layer of bowling alley wax is hand rubbed onto the painted floorcloth for added protection. It protects the floor cloth, keeping dirt above the cloth's sealer. This wax layer is "sacrificial", meaning that it will take the punishment and then can be removed and a new layer of wax applied.

I recommend placing a waffle rug pad under any floor cloth to prevent slippage and to promote the life of hand painted floorcloths. I prefer this to any applied backing as it will not collect dirt and is easy to clean thoroughly. It also offers a cushion to painted floorcloths.

Caring for painted floor cloths is fairly simple. Sweeping or vacuuming regularly will prevent dirt from scratching or marring the surface. Occasionally mop floor cloths with mild soap and warm water. Once or twice a year re-apply a coat of paste wax to the top surface. This will not only protect the surface but will enhance the appearance of the hand painted floor cloth.

Because they wipe clean and stand up to the toughest of foot traffic, you can use this unique art in any house. Kids can spill grape juice or spaghetti sauce and pets can track mud onto floor cloths without you worrying that they'll stain or scratch the surface.

Since each floorcloth is a work of art, each is signed, dated and worthy of being a cherished heirloom for you and your family. Beauty and quality are a part of every piece!
---