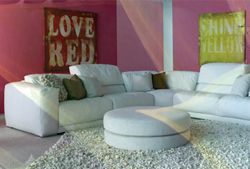 Call
Tel: 972 296 9959
Fax: 972 296 8859
Write
American Leather
4501 Mountain Creek Parkway
Dallas, TX 75236
United States of America
Founded in 1990, Dallas-based American Leather has brought both design and innovation to the leather and fabric upholstery manufacturing industry. The company's products - which are all designed and manufactured in the U.S. - are delivered in four weeks and made to order with a choice of hundreds of leather, fabric and Ultrasuede options.
Specializing exclusively in the design and manufacture of custom-designed, fine-quality leather and upholstered furniture, American Leather markets a broad wholesale line worldwide, and showcases its line in High Point, and out of the company's showroom in Dallas.
Bringing together contemporary, transitional and traditional furniture designs, the American Leather line consists of original styles by some of the industry's leading international designers.
The company has a distinct focus on innovation, and includes proprietary, patented and licensed designs in their product line. This includes the Comfort Sleeper - the world's most comfortable and space-saving sofa sleeper design on the market; the Comfort Recliner - with infinite reclining positions that give you endless ergonomic adjust-ability; and the Comfort Theatre collection which includes the Comfort Recliner capabilities and includes powered reclining options.
American Leather is sold through more than 650 retail stores nationwide, including national chains such as Crate and Barrel, Macy's, Room and Board, Relax the Back and more.