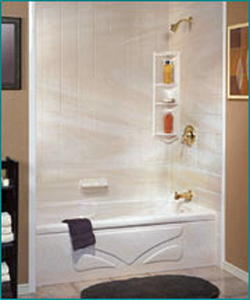 Call
Tel: 352-624-8827
Fax: 352-624-8808
Toll Free: 1-866-585-8827
Write
Bath Fitter
2303 NE 29th Terrace
Suite 102
Ocala, FL 34470
United States of America
BATH FITTER is North America's leading acrylic bath, shower, bath tub refinishing and wall system company. Our products are custom molded to fit RIGHT OVER existing fixtures for quick and clean bath remodeling and bath tub refinishing that is complete in less than a day.

Our company was founded in 1984. Since then, we have remodeled and refinished bathrooms in hundreds of thousands of homes, apartment buildings, hotels and other multi-unit properties through our network of franchised and company-owned locations across North America. Today, our product line includes bathtubs, shower bases, bath and shower walls, domed ceilings, tub and shower doors, and a variety of color-matched accessories.

We have state-of-the-art manufacturing facilities in Springfield, Tenn. and Montreal, Que., where we make our own molds and top-quality acrylic material for bathroom remodeling, bathtub restoration and bath tub refinishing. Our finished goods are shipped directly to our retail locations via our fleet of specially equipped tractor-trailers, ensuring safe and on-time deliveries. Vertical integration at BATH FITTER means that we are in total control from start to finish of every detail related to the quality of our bath remodeling products. By being directly involved in the operation of 35 corporately owned retail locations and by keeping in constant communication with our network of over 165 independently-owned franchises, we stay in touch with the latest consumer trends and maintain the highest possible standard of customer satisfaction.

We offer various services and products for our customers like bathroom remodeling, bathroom renovation, bath tub refinishing, bathtub restoration. All types of bath tub refinishing is done by our highly qualified technicians so that our customers can always remain sure of the quality of service provided by us.