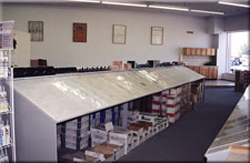 Call
Tel: 480-784-7390
Fax: 4807535377
Write
A World of Tile
4320 West Chandler Boulevard
Chandler, AZ 85224
United States of America
WORKSHOPS

A World of Tile provides free tile installation seminars to our customers at each of our locations. You can contact your sales professional for dates and times. Our seminars are designed to provide you with all of the knowledge you will need to avoid the typical pitfalls of installing your own tile. Coffee and doughnuts are provided. The content of the seminars will include the following topics:

Room layout, including measurements, set up and patterns
Surface and sub-surface preparation
Adhesives, the different types and proper application
Tile cutting and the use of various tile cutting tools
Grouts available, mixing instructions and application
Clean up, sealing and maintenance
Answers to any questions you may have regarding your particular installation needs
The seminar will include hands on experience with all of the tools, and materials you will need for a professional result.

FEATURES AND BENEFITS

We buy directly from manufacturers and sell on a retail and wholesale basis.
The manner in which we merchandise our tile allows the customer to more easily visualize the completed installation.
We sell only ceramic, porcelain and stone tile. We are specialists.
Our comprehensive training program allows our salespeople to be some of the most knowledgeable in the industry.
Because the company is a direct importer of ceramic tile and stone, enjoying the benefits of exclusive distribution in many cases, we can react quickly to changing trends and tastes.
We can compete head-on with the Building Centers as well as the Wholesale Distributors in our areas.
Our tiled room scenes allow customers to see finished installations of the products.
We stock much heavier for cash and carry business than any of our competitors.
We have patterns and lines of tile that are totally exclusive to our company.