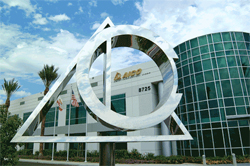 Call
Tel: 562.463.9200
Fax: 562.463.9209
Online
Located in Southern California, Amini Innovation, Corp., AICO, is committed to providing the world with original, high quality home furnishings. With a state-of-the-art facility in Pico Rivera, California, we stand for unbeatable customer service and unbelievable prices.

Our expansive 322,000 sq. ft. warehouse is a model of efficiency. Rest assured that you will be getting the very best in products and services in a timely and consistent manner. Our talented team of specialists are eager to perform to the task at hand. Give us a try, you'll be glad you did.

No matter how near or how far, AICO stands by its products. Through careful planning, meticulous concern and constant refinement, every AICO product is a symbol at the heart of its founder and CEO Michael Amini. We challenge you to find better, more innovative furnishings anywhere in the world.

All of our products are created with the belief that you will get more than you can imagine–more style, more features, more selection and more value. We invite you to view all our collections and visit this site often. Let us help you enrich your life and your surroundings.
---