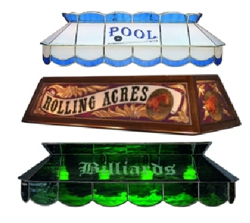 Write
Acme Billiards Lighting
4836 South Xenophon Way
Morrison, CO 80465-1778
United States of America
Online
Working with designers and artists
Acme Billiards Lighting provides custom pool table lighting fixtures of the finest quality, combining modern materials with old world craftsmanship.
Whether you select your pool table light from the pages that follow or work with our design teams to create an original one-of-a-kind pool table light,
it will be a work of art.
In most cases, lighting sizes, design colors & fixture type can be altered to suite. Custom lettering, logo's, etching, pictures & decals are also available.
Please browse our catalogue to appreciate what we have to offer, pool table lighting and game room lighting that fits your style.
Morrison, CO : Lighting : Lamps : Energy Efficient Lighting :