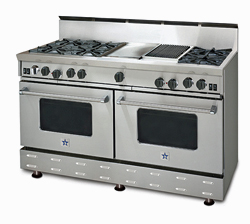 Call
Tel: 610-376-7479
Fax: 610-376-2596
Write
BlueStar
600 Arlington Street
Reading, PA 19611
United States of America
Founded in 1880, Prizer-Painter, Inc. - maker of the BlueStar brand - has established a reputation for top quality products, high performance, and reliability. Originally known as Prizer-Painter Stove and Heater Company, Prizer produced a full line of coal ranges, hot water heaters, furnaces and heating stoves, sold under many of the major brand names of the day. In fact, many of those original models are still in service today across America. Prizer also produced a full line of Porcelain Enamel cookware throughout the 1950's that was sold under the name "Prizerware".

Prizer continued to produce cooking ranges until 1975, when the decision was made to dedicate its facility to the contract parts and assembly market, producing stoves for major brand names. In fact, for several years Prizer produced professional gas ranges for the Garland brand. This business was the backbone of Prizer into the 1990's until, through a relationship with the Ben Franklin Technology Center located at Lehigh University, Prizer was able to take a major step forward with the introduction of its "Two Coat/One Fire" powder coating system.

In 2002 Prizer introduced genuine restaurant ranges to the residential market, under the BlueStar name. With technology and performance only found in professional ranges, BlueStar is the only true genuine restaurant range for the home. Today, BlueStar is widely considered the range of choice for top chefs and cooking enthusiasts who demand true cooking performance.
---