Wood Butcher Block
Wood Butcher Block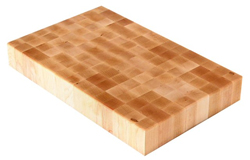 Wood or butcher block countertops offer a attractive warm look and is available in a wide range of colors and finishes. Hardwoods such as oak and maple are frequently used as countertop woods. Wood countertops are smooth and easy to clean but can promote bacteria, especially if it is constantly used as a butcher block. It can be sanded and resealed to manufacturer's instructions as required but can be damaged over time by stains and water. Wood or butcher block is not recommended to be permanently installed on kitchen counters.

Articles
Our Articles Section provides you in-depth articles about Wood Butcher Block. A great place to begin exploring new products and ideas.

Books
Our Books Section provides you in-depth customer reviews about books that contain information about Wood Butcher Block. Find out what books are hot and what books are new.

Brand Info
Use our Brands Section to browse different brands of Wood Butcher Block. Click here to find the brand you want or be introduced to a new one.

Shop
Looking for special offers? Check out our Shopping Section for the latest products and promotions from online retailers that sell Wood Butcher Block.

Local Directory
Looking for local retailer or installer of Wood Butcher Block. Use our handy zip code locator or browse our directory by state and city.

Helpful Links
Our Helpful Links Section puts the best internet resources at your fingertips. Decorating & design tips, how to's, cleaning & maintenance, installation, repair & refinishing links.