Countertops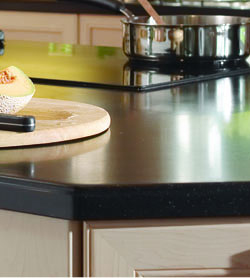 There are plenty of options for kitchen countertops available on the market. Countertops refer to a decorative surface that covers kitchen cabinets, as well as, other areas food preparation areas. Countertops can be fabricated from a wide assortment of materials. Your choice of countertop is dependent upon the expense of the material, its strength and sturdiness, and the difficulty with which it can be installed and worked on.

Some familiar materials for fabricating counter tops include the following:
Ceramic tile counter tops are inexpensive, durable and easy to clean making is a really good choice for countertops in the average home. Because ceramic tile is installed a portion at a time, it can be handled by most capable do-it-yourselfers. Ceramic tile counter tops are offered in wide range of colors, textures and price points. Some of the drawbacks of ceramic tile counter tops are that the tiles can easily crack or chip, the surface is uneven and grout lines can become tainted. Custom designed art tiles are very expensive.
Concrete counter tops may be a good choice if you want unusual shapes, as they're often molded right in your kitchen. The high cost may be beyond most consumers' budget. Concrete counters tops look extraordinary and sometimes outlandish and can be color-tinted with additives that lessen porosity. They are abrasion and heat resistant and new treatments do away with cracking.
Engineered stone countertops are composed of quartz particles. It has a non-porous surface that resists scratches and is available in a larger selection of colors than granite. It's easy to maintain, and unlike natural stone does not require yearly sealing. Brands available on the market are Silestone, DuPont Zodiaq®, and Cambria Quartz. Engineered stone countertops are easy to care for and resistant to acid and stains but they are an expensive decorative surface.
Granite counter tops are the material of choice when you have plenty of money to spend. It defines sophistication and elegance in a kitchen. The attractiveness of the stone contributes to the panache of even the most humble kitchens but is only available in a limited range of colors. Granite counter tops look permanent, substantial and come in beautiful natural colors. The surface holds up to heat but granite is very expensive, requiring lots of maintenance and intermittent sealing. It also absorbs stains and can crack.
Laminate counter tops are made of plastic-coated synthetics with a smooth surface that's easy to clean. The pieces are cut to size and finished on the ends. Laminate counter tops are available in lots of colors from such brands as Formica, Nevamar, and Wilsonart. Laminate is easy to maintain; resilient and inexpensive but it scratches and chips and is almost impracticable to repair; it shows seams and front edge choices can be high-priced.
Marble counter tops are not often seen in whole kitchens because of it's exceedingly high price. To get an opulent appearance, use it as an inset at a baking center or use it on a kitchen island. Depending on its veining and color patterns, marble countertops can also make a room appear chic. Marble requires persistent upkeep as it easily stains unless professionally sealed. Some new marble sealers impede staining. Marble counter tops are impermeable; heatproof and stunning but are expensive and can scratch and stain.
Soapstone counters tops have a smooth feel and are usually dark grey in color. It is often seen in historic homes but is also used in contemporary homes as both sink material and countertops. Soapstone counters tops offer a deep rich color and is to some extent stain resistant but may darken over time. It requires regular maintenance with mineral oil.
Solid surface counter tops are just what they're called, solid. The countertops are custom made to your specifications by companies such as Avonite, Corian, and Swanstone. Solid surface counter tops come in a large selection of colors and patterns; and is seamless and stain resistant. Hot pans and stains can damage the surface but imperfections can be sanded out. It is moderately expensive.
Stainless steel counter tops are a good pick for a really modern-day and industrial looking for your kitchen. They are heat resistant and can take hot pans but it is noisy, may dent and you can't cut on it. Additionally, it also easily takes on the temperature of its environment, so that kids must be kept away from them, especially if the stainless steel countertop is part of a stove system. Because they're constructed to your specifications, it is expensive but you can have a seamless countertop. This durable material is easily cleaned and maintained.
Wood or butcher block countertops offer a attractive warm look and is available in a wide range of colors and finishes. Hardwoods such as oak and maple are frequently used as countertop woods. Wood countertops are smooth and easy to clean but can promote bacteria, especially if it is constantly used as a butcher block. It can be sanded and resealed to manufacturer's instructions as required but can be damaged over time by stains and water. Wood or butcher block is not recommended to be permanently installed on kitchen counters.

Countertops are fabricated depending on their intended use. Kitchen countertops are usually formed with a backsplash, or a raised edge that will keep spills from pouring into cabinets. Countertop faces can also be ornamented, from simple and plain, to intricate, depending on the homeowner's requirements.