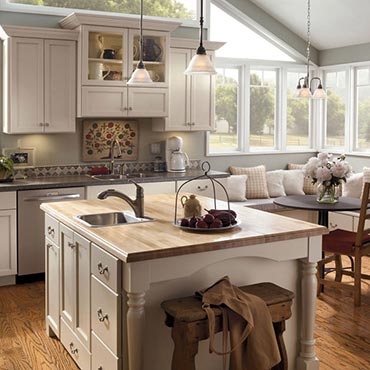 Kemper Cabinetry
---
Profile
|
Website
Kemper offers classic, affordable designs… that last. Choose from over 150 styles and finish combinations - including glazes, paints and accents to create a kitchen that's as comfortable and beautiful as it is functional. A kitchen that says a lot about the way you live.
Cabinetry:
Kitchen Cabinets
84021-433


Shiloh Cabinetry
---
Profile
|
Website
Shiloh Cabinetry is built by W.W. Wood Products Inc, a family-owned company since its beginning in 1977. The company is located in Dudley, Missouri, a rural town of under 300 people. Dudley is 2 ½ hours south of St. Louis, Missouri in the bootheel of the state
91270-1195


Quality Cabinets®
---
Profile
|
Website
Quality Cabinets® offers several depths of wall, base and vanity cabinets – all in a wide variety of sizes, wood species, door styles and color combinations (more than 500, in fact) and all at an incredible value for the money. Our optional upgrades and decorative accessories allow you to "customize" a room to reflect your personal style – and achieve beauty and function your way.
Cabinetry:
Cabinetry/Casework
88023-897

Armstrong Cabinets
---
Profile
|
Website
|
Design Tools
|
Maintain
|
Green
Armstrong Cabinets and Kitchen Cabinets combine the latest fashions for kitchens and bathrooms with unmatched cabinet functionality and innovation.
Cabinetry:
Cabinetry/Casework, Kitchen Cabinets
62877-1389


Dakota Kitchen & Bath
---
Profile
|
Website
The perfect marriage of craftsmanship and technology, Dakota has combined the best of both worlds; an Old World Woodshop equipped with high speed digital woodworking machines. Dakota Kitchen & Bath will enhance your lifestyle with the beauty, functionality, and quality of fine custom cabinetry.
84608-576