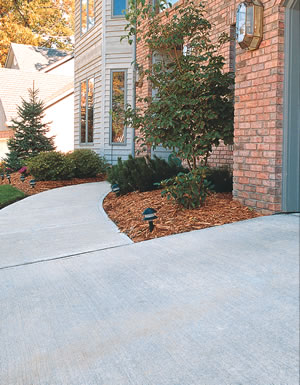 Give your driveway, walkway or patio a fresh new look. With H&C® Concrete Stains and Sealers, decorating those surfaces can be as much fun as decorating your home's interior. You can even create a custom look with our pre-designed, easy-to-use H&C stencils.

Cost-Effective Protection
You don't need to replace your concrete walkways, patios or driveways to achieve the look you desire. H&C Concrete Stains and Sealers provide a simple way to not only add color and style to these surfaces, but also to help protect your valuable investment from the ravages of weather.

Pre-Mixed or Custom Colors
Available in several pre-mixed colors, including Tile Red, Terra Cotta and Seafoam Green, H&C Concrete Stains brighten areas most homeowners take for granted. In addition to the pre-mixed colors, H&C Concrete Stains can be custom tinted.
Walkways become more inviting
Basements more attractive
Patios more colorful

Visit your neighborhood Sherwin-Williams to learn more about how H&C® Concrete Stains and Sealers can beautify your home.