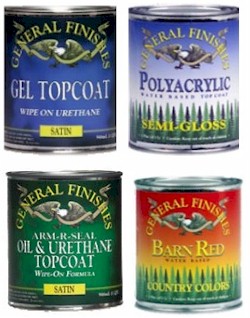 Water Base Stains, Paints, Waxes and Topcoats
Environment friendly PolyAcrylic finishes are easy to apply, durable, and simple to repair. Our special waterborne formulas deliver extraordinary depth and vibrancy of color that cannot be achieved in any oil based product. If you are looking for color - use General Finishes Water Based products! Whether you want bold and luscious or traditional and classic, General Finishes has the finish for you.
GF Wood Stains
Oil based Wood Stains are made from the highest quality oils, resins, and pigments to insure your finishing project will be an easy and rewarding experience. As a testimony to the stains' overall excellence, several woodworking magazines have awarded GF Stains their highest recommendations in national competitions. They have been foolproof for over 40 years! The stain colors are current, exciting and offer you a wide range of choices: White Mist, Honey, Honey Maple, Maple, Light Oak, Pecan, Salem, Danish Teak, Candlelight, Warm Cherry, Antique Cherry, American Walnut, Mahogany, and Spiced Walnut.
GF Danish Oil
Danish Oil's unique blend of linseed oil and gilsonite colorant penetrates and colors wood unlike pigmented stains. Gilsonite is a mined ore, which comes only in a black walnut color. It is different from pigments, which come from earth clays. Danish oil's best use is on oak where the walnut colors are carried deep into the grain and produce a look that pigments cannot match. The linseed oil in Danish oil dries to a durable finish and can be used as a one-can finish; more coats help build durability. However, for maximum protection Danish Oil can be top coated with Arm-R-Seal Topcoat Danish Oil is available in: Natural, Honey Oak, Light Walnut, Dark Walnut, Golden Oak, and Cherry.