Bruce Laminate Flooring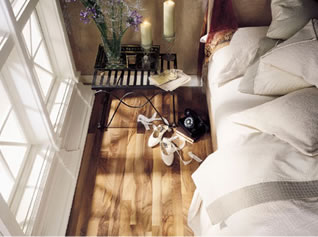 Bruce Laminate Flooring – Affordable Luxury for Active Lifestyles. Since 1884, Bruce Laminate Flooring has captured the natural beauty of real wood and skillfully crafted it into planks revered for their timeless beauty and outstanding quality. Skilled artisans pioneered the development of today's Bruce Laminate Flooring line that features the largest selection of colors and styles in the industry. They have become the most preferred brand with the nation's homebuilders, remodelers, architects and homeowners.
This company takes technology to new levels by duplicating the beauty and warmth of natural wood and stone in this new collection of affordable product. As tough as it is beautiful, their planks bring the luxury of global hardwoods, hand-sculpted exotic visuals and natural stone to any room in your home. Their collection of exotic and domestic wood and natural stone visuals that are as beautiful as they are durable, to appeal to the changing tastes and lifestyles of today's homeowner.
Affordable Elegance
Combining over a century of experience with the most technologically advanced manufacturing innovations, they have made affordable luxury your reality. American's best-selling brand has a product that will fit any budget, backed by a warranty that assures a lifetime of long lasting beauty.
Easy Care Beauty
This product is precision-built to withstand the demands of today's active-family. Advanced, high-performance finishes not only protect the beauty of the wear surface, they make routine care a snap. This is beauty that is easy to live with, easy to afford, and easy on the eyes. Enjoy!
Features:
Hi-Definition Print Technology™ is used to create extremely realistic patterns. Colors are vibrant and natural with intensified depth and realism. The embossing technology infuses the look with depth and texture.
The Lock Installation method features a unique tongue-and-groove profile that allows for easy installation of boards by just locking edges into place and requiring no glue. Offers the tightest fit and provides virtually seamless appearance.
G3™ Wear Layer protects against wear, stains and fading. Hi-Definition Print Technology™ is used to create extremely realistic patterns. This durable wear layer protects against wear, stains and fading. It offers the best resistance to scratches, indentations, dents and dings for your home.
All planks have a Magnum HDF Core with thermofused backing that forms a moisture barrier. There's no need to worry about spills soaking in or moisture wicking up from the subfloor. The Magnum HDF Core also eliminates the need to acclimate planks in the home environment so you can buy it and install it the same day.