Shaw Hardwoods Flooring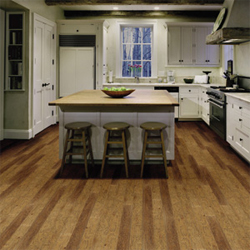 Shaw Hardwood Flooring is superior in both quality and design and is dedicated to delivering excellent value to you. A leader in the industry, Shaw Hardwood Flooring is an innovator with VersaLockô, Silent-Stepô and Durashield XL features.
Shaw Hardwood Flooring VersaLockô -† offer the newest in genuine planks that can be easily installed without glue or nails. That means it can immediately handle traffic and there's no messy clean up. This is achieved with a patented tongue-and-groove locking system that dependably secures the panels on all four sides without adhesive. All the components can be taken apart and reassembled.
Silent-Stepô - They offer a broad selection of superior underlayment systems, including the Silent-Step. This 3-in-1 underlayment system provides "just right" thickness for stability and comfort.† It also provides a moisture barrier, microbial mold and mildew inhibitor, superior sound absorption, and the most realistic step sound available.
Durashield XL - All styles are protected by our aluminum oxide enriched DuraShield XL finish, which lasts up to seven times longer than conventional UV cured urethanes.
When selecting a product, you must decide between SOLID or ENGINEERED.
Solid, like it sounds, is milled from a single 3/4" thick piece of† hardwood. Because of its thickness, a solid plank can be sanded and refinished over several generations of use. One of the characteristics of solid plank is that it expands and contracts with changes in your home's relative humidity. Normally, installers compensate for this movement by leaving an expansion gap between the installation and the wall. Base molding or quarter round is traditionally used to hide the extra space.
Engineered is actually produced with three to five layers of† wood. Each layer is stacked in a cross-grain configuration and bonded together under heat and pressure. As a result, engineered planking is less likely to be affected by changes in humidity and can be installed at all levels of the home.
Before deciding on Solid or Engineered, consider these factors:
Location, Location, Location
The location of your installaton basically falls into three categories:
On Grade - at ground level
Above Grade - any second level or higher
Below Grade - any surface below ground level, including basements or sunken living rooms.
Traditional solid planks are not well suited for high moisture areas such as bathrooms or below-grade installations. The construction of an engineered planks gives it enhanced structural stability and moisture resistance that allows it to be installed at any grade level.
What type of subfloor do you have?
If you plan to install over concrete, you must use an engineered product to ensure structural integrity. Solid planks or Engineered planks may be used over plywood, wood, or OSB surfaces.
Will there be moisture in the room?
If so, you'll want to select an Engineered plank. The moisture resistance of an engineered planks makes it suitable for rooms where moisture is a possibility, such as bathrooms.
The Character of Plank Floors
Many factors define the look of the product.
Species of the tree, where it grew, rate of growth, part of the tree used--they all determine your styles' unique "character marks."
The closer a plank is cut to the center of the tree, the darker its overall tone. Lighter boards came from closer to the bark.
Knots indicate that a limb grew from that spot.
Growth rings, determined by climate trends and mineral/nutrient absorption, determine grain pattern.
While all these "character marks" impact the appearance of finished boards, they do not affect their strength.