Witex Laminate Flooring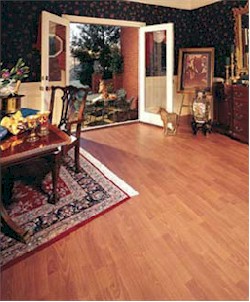 Witex Laminate Flooring offers the beauty, versatility and performance no other flooring type can. As a man-made product using state-of-the-art manufacturing technologies, Witex laminate flooring benefits from strengths in stability, water-resistance, scratch-resistance, sound-absorption and even bacteria resistance that many other products just don't have.
Witex Laminate Flooring makes a perfect candidate for basements, high-traffic areas, kitchens and even bathrooms. Not only will this product improve the look and value of your home, but its anti-microbial feature (available on select decors) and sound-reduction capabilities can actually improve the quality of your living environment.
There five distinct levels of products to suit your individual needs:
Town and Country, their most popular line, offers a traditional look combined with cutting-edge technologies. Whether you are searching for a touch of elegance or rustic charm to bring new life to your home's decor, you will find the right look in Town and Country. This collection features their largest range of wood types, including mahogany, teak and walnut, enhanced with state-of-the-art features.
Their Home and Heritage Collection offers the added benefit of a Lifetime Warranty for the ultimate in style and performance. The Home and Heritage collection represents a compilation of years of advanced research and state-of-the art technology to create the ultimate in high-performance products. This product has it all. It's quick and easy to install with our glueless installation system. It provides optimum scratch and moisture resistance along with Microban, their complete system of bacteria growth prevention. And that's just the start of its many features and benefits.
If you're in the market for a tile design, the slate and stone decors in their Casa Tiles line are sure to please.
Finally, their value-packed Mainstay and Basis Collections offer big features for those on a budget. Whatever your selection, they will prove to be the perfect fit for your home and lifestyle.
For more than 25 years, they have been a major supplier of coatings for wood and wood-based panels, originally for materials used in the furniture industry. They were one of the first companies in Germany who started this production technique. They have developed to a brand product which comes up with extraordinary product qualities and a wide collection variety. A wide range of products and services as well as a comprehensive selection of accessories complete our catalogue of items for professionals. They are now one of the most successful international brands on the market. They currently export to more than 70 countries worldwide and advances them to a leading manufacturer. Functionality and individuality are emphasized. Good ideas and loving care for details lead to a higher living quality. That is the philosophy of the company and the brand.