Stow Fitness - Exercise Equipment and Furniture in One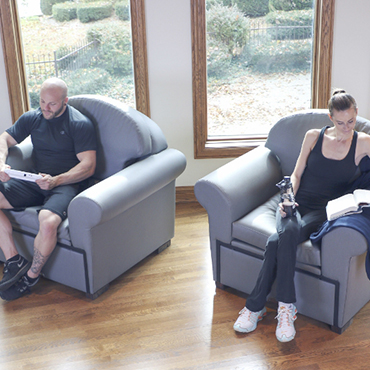 Finally, there's a solution allowing exercise in the comfort of your own home, without using up excessive amounts of storage space. Stow Fitness is furniture that stows full size workout equipment – so that any room in your home can easily transform into a state of the art gym. Stow Fitness have launched a comfortable and durable armchair, complete with Spin Bike or Weight Bench smoothly stowed inside. Stow Fitness is easy to use, easy to clean and doesn't take up unnecessary space – the perfect solution for any home. With Stow Fitness, users won't have to choose between comfort and fitness – if there's room for the chair, there's room for the exercise equipment as well.
The Stow Fitness armchair comes in four color options, and is built to commercial design standards for high quality and durability. The Spin Bike and Weight Bench, stored inside the chair, both come in an anti-bacterial powder finish, and are designed to be unfolded and in use in under 30 seconds. The Stow Fitness Spin Bike comes with a 40 pound flywheel, fully adjustable handlebars and seat adjustments for different size riders. The Spin Bike is also technology-enabled for speed and cadence tracking – it can connect to cycling apps through Bluetooth, and is compatible with IOS and Android.
The soft-cushioned Weight Bench includes quick attach dumbbells, quick attach kettlebell handle, and 90 pounds of weight plates. The exercise equipment is accessed through the front of the chair, by pulling a lever. The Weight Bench then unfolds completely in two steps while the Spin Bike unfolds in four steps – these steps are designed to be intuitive, simple, and quick for any user.
"We created Stow Fitness to fit the modern lifestyle of real people – and the reality is that sometimes there's just not enough space to exercise comfortably in your own home. Besides, exercise equipment lying around the house is an eyesore to say the least! The Stow Fitness chair completely eradicates this problem – it's a great piece of furniture with great fitness equipment, all in one product" says founder, Jason Burt.
http://stowfitness.com/
---