Paint Quality Institute 2017 Interior Color Forecast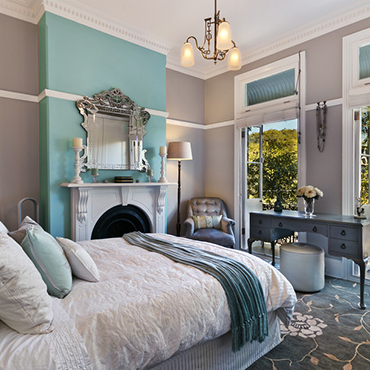 SPRING HOUSE, Pa., Nov. 29, 2016 /PRNewswire/ -- Color trends in interior design are frequently fickle, quickly swinging from one side of the spectrum to the other. But for once, forecasters say that a single hue has entrenched itself as the current and future favorite: Gray!
"Gray, in all its variations, has emerged as the overwhelming choice of designers for spaces ranging from home interiors to elegant office settings, and everything in between," says Debbie Zimmer, color expert for the Paint Quality Institute.
Versatility is the secret to the success of gray, says Zimmer. "Gray is beautiful in its own right, but it is so perfectly neutral that it can work alongside other soft tints or serve as a perfect foil for vibrant accent colors."
One reason gray is so versatile is that it is not a stark primary color, nor is it typically a simple combination of black and white. What we call "gray" actually refers to a wide range of complex grayish colors that often contain hints of red, green, blue, yellow, or some other hue.
"This subtle tinting is what enables various grays to work well with so many complementary and contrasting colors," says Zimmer. "For example, gray paints that contain a little yellow pigment work well with gold, beige, or brown, while those containing red pigment coordinate beautifully with burgundy or purple."
Yellowish-grays paired with beiges or off-whites create neutral color schemes that are not only classic, but also calming. Similar results can be achieved with blue-grays. Meanwhile, red- or green-leaning grays often appear ultra-sophisticated.
Grays are practical, too. Since they work with so many colors, it's easy to change the overall appearance of a room by simply repainting an accent wall in a different hue... or, easier yet, introducing a new "punch" color by adding accent pieces like bright pillows and pottery.
If you've decided to use gray as the dominant color in a room, Zimmer suggests that you first select an attractive gray paint for the walls; then ask the salesperson to show you the color formula. Pigment colors blended into the "gray" paint point to the colors you should choose for trim paint, accent walls, and even furnishings.
"Using the color 'clues' hidden in the paint formula is a great place to start when putting together a color-coordinated interior," says Zimmer. "But gray is neutral enough to work with nearly every hue. It's almost impossible to go wrong when using it as the basis for your color scheme."
So, if you jumped on board last year with the migration to gray, be assured that your home is still trés chic, according to the design community. And if you want to join the ranks of interior color fashionistas moving forward, it's still not too late to "go gray"!
Learn more about interior color and painting by visiting the Paint Quality Institute online at blog.paintquality.com.
http://www.paintquality.com/
---