Frank Lloyd Wright's Taliesin West Gets a Face-lift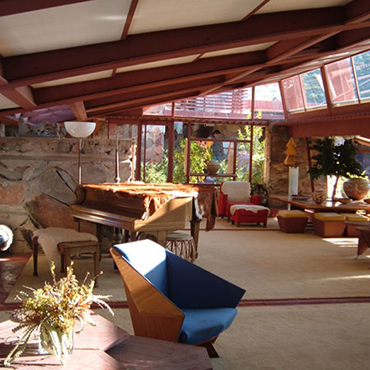 Architect Frank Lloyd Wright believed every element of the space he was creating should work together—from floor plan to fabric to furniture to floor covering. In fact, he once considered designing rugs and carpets for Karastan. It was those early discussions that encouraged the Frank Lloyd Wright Foundation to choose a Karastan product for the newly restored Taliesin West, Wright's home in Scottsdale, Arizona.
"The reason we selected Karastan for the living room of Taliesin West was because of the color selection available, the quality of Karastan's carpets and Wright's relationship with Karastan. Wright talked to Karastan in 1955 about collaborating on a line of carpets with the Wright design," said Doug Volker, the foundation's director of licensing and product development.
Matching the carpet in historic photos, Karastan donated 1,495 square feet of new carpet to bring the Taliesin West living room and adjacent dining cove back to their former beauty. The carpet selected for the restoration project, Karastan's Cambridge Shores in Glazed Wood color, was custom made and bound into five rectangular rugs to fit the space.
Wright began building Taliesin West in 1937 as his personal home, studio and architectural campus, and no doubt was still making changes in 1959 when he died. Each year more than 150,000 visitors tour this historic property in the foothills of the McDowell Mountains to admire the genius of the man who continues to impact interior design, architecture and ideas about sustainability and green living.
The Frank Lloyd Wright Foundation, which is headquartered at Taliesin West, is planning several special events and enhanced tours during 2012, which is the 75th anniversary of Taliesin West and the 100th anniversary of the State of Arizona. The foundation expects many visitors will be interested in the living room where the Wrights entertained famous guests. The dramatic room features one of Wright's beloved pianos; the unusual Taliesin West chairs, which were Wright's attempt to design a chair where the user actually looked "graceful" while seated; and now custom rugs by Karastan.
Karastan is part of Mohawk Industries, a leading supplier of flooring for both residential and commercial applications. Mohawk offers a complete selection of broadloom carpet, ceramic tile, wood, stone, laminate, vinyl, rugs and other home products. These products are marketed under the premier brands in the industry, which, in addition to Karastan, include Mohawk, Ralph Lauren, Lees, Bigelow, Dal-Tile and American Olean. Mohawk's unique merchandising and marketing assists consumers in creating their dreams. Mohawk provides a premium level of service with its own trucking fleet and more than 250 local distribution locations.
http://www.karastan.com/
---