Leading Furniture Manufacturer Comfort Research Honored Among National Best and Brightest Sustainable Companies®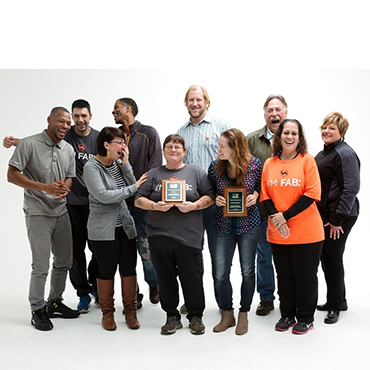 West Mich.-based Comfort Research, a global leader of alternative seating solutions, has been named among the 2016 National and Michigan's Best and Brightest Sustainable Companies®. Awarded by the National Association of Business Resources, the honor recognizes Comfort Research for its leadership and innovation in green and sustainable practices.
"Since its inception, Comfort Research has strived to find a greener, more sustainable way to do business," said Chip George, co- founder and CEO of Comfort Research. "Much of the credit for this honor lies with our inventive staff and the ideas they've brought forward to change the way we operate. Thanks to them, we're already landfill free and our 2016 goal has been to progress toward zero waste."
At the heart of Comfort Research's problem-solving culture, and the catalyst for many of its sustainability efforts, is the company's FAB Award (Finding A Better Way), which empowers team members to bring new ideas to the forefront. Creative concepts range from identifying new ways to fill bean bag chairs to repurposing shipping crates to even painting a wall pink because it cheers up the team. One employee is recognized every quarter with $2,500 for being FAB and improving the workplace, and the annual FAB Award winner receives $10,000.
"We've simply put our money where our mouth is as it relates to creative thinking, and many of the ideas that have come to fruition happen to have a positive impact on sustainable practices," said George.  
As of 2016, Comfort Research's sustainability efforts include the reduction of 397,916 lbs. of waste that would have otherwise ended up in landfills. Since the beginning of the company's Green Program, 2,182,950 kWh of clean renewable energy has been produced through incinerating unrecyclable waste – enough to power over 200 average U.S. homes for a full year.
About Comfort Research
Comfort Research is a product design and manufacturing company, based in the heart of West Michigan.  The company creates seating products for both indoors and outdoors, and the unique pool/lake product market. Their comfortable products are filled with expanded polystyrene (EPS) beans, recycled shredded foam, or molded with its patented Comfort Lite Core, bringing their customers the most revolutionizing, affordable furniture. Virtually sold to every mass retailer with a significant presence on the web, Comfort Research's promise to customers is big and FAT – FUNctional, Affordable and Trendy. Multimedia here. 
http://www.comfortresearch.com/
---