SMART Carpet and Flooring Reveals Their Naughty & Nice List for Protecting Floors This Holiday Season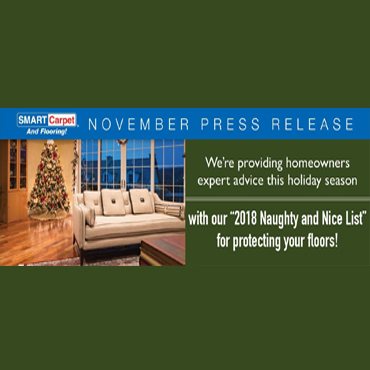 NEW MONMOUTH, N.J., Nov. 5, 2018 /PRNewswire/ -- With an estimated 27.4 million real Christmas trees purchased last year, according to the National Christmas Tree Association, SMART Carpet and Flooring is providing homeowners expert advice for protecting floors this holiday season with their "2018 Naughty and Nice List."

"Between holiday visitors, wet snowy weather, festive decorations and even real Christmas trees, the floors in our homes can really take a beating during the holidays," said Brendan Phillips, SMART Carpet and Flooring founder and president. "Thankfully, there are preventative steps homeowners can take to protect their floors and carpets, especially when it comes to bringing home and maintaining real Christmas trees."

Today, the SMART Carpet and Flooring experts revealed their "2018 Naughty and Nice List," for protecting floors from real Christmas tree needles, sap and water spills.

THE NAUGHTY LIST

1. DO NOT: shake the tree inside the house. Be sure to shake any loose needles out before bringing the tree in.

2. DO NOT: drag Christmas trees on the floor when bringing it in the house as it will scratch hardwood floors and potentially snag carpets.

3. DO NOT: use a broom to sweep up the needles that fall because dragging them on the floor may cause scratches. It's best to use a vacuum to clean up needles.

4. DO NOT: use a towel or a sheet under your tree because these will hold any water that spills and damage your floor's finish.

5. DO NOT: let water stay on carpets or floors. If spills happen while watering, be sure to clean it up immediately.

THE NICE LIST

1. DO: create a barrier between the Christmas tree and floors to prevent any water from spilling and causing damage. This can be done using plastic drain trays that are designed for washing machines or tree stand mats.

2. DO: place a tree skirt around the base of the tree to cover the drain tray or tree stand mat and to also catch needles that fall out.

3. DO: cut small branches from the bottom of the tree so they are not dragging on the floor and scratch it.

4. DO: use ice on the affected area if any sap gets on the floor. Once hardened, pick the sap with a fingernail or a plastic knife, being very careful to not scratch the floor.

5. DO: use hardwood cleaner or carpet cleaner after the holidays when the tree has been removed to restore flooring.

Decorating for Christmas can also mean the addition of beautiful new carpet or flooring, particularly when preparing for holiday guests. The experts at SMART Carpet and Flooring make it easy by bringing their mobile showroom right to homeowners' front doors and can have new flooring installed before the big jolly guy dressed in red slides down the chimney. Homeowners in New Jersey, New York and Pennsylvania can call SMART Carpet and Flooring now to schedule an appointment.

About SMART Carpet and Flooring
As the Tri-State area's original shop-at-home flooring provider with deep roots in New Jersey, SMART Carpet and Flooring eliminates the hassle of buying new carpet and flooring by doing everything at the client's home, where color and quality selection matter most. Because the company is a mill-direct buying service and not a store, SMART Carpet and Flooring customers can save up to 50% off typical store prices. SMART Carpet and Flooring includes everything from measuring and layout to installation and financing.


https://www.smartcarpet.com
---