Ashley HomeStore,Country Music Association and Big Machine Label Group Partner to Give Furniture to Habitat for Humanity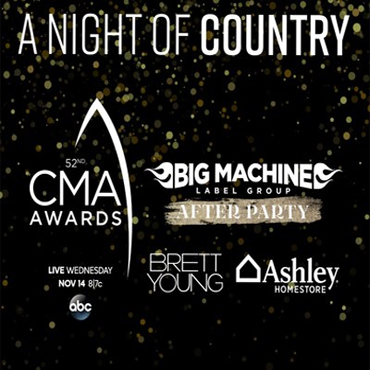 NASHVILLE, Tenn., Nov. 7, 2018 /PRNewswire/ -- Ashley HomeStore is sponsoring "The 52nd Annual CMA Awards", through furnishing the backstage areas, dressing rooms and the exclusive Big Machine Label Group After Party for Country Music's biggest stars. After the festivities, Ashley HomeStore is donating the furniture to the charity, Habitat for Humanity of Greater Nashville's ReStore. The furniture will be available at the ReStore on November 15th, 414 Harding Place, Nashville, just in time for the holidays.
Some of the genre's superstar acts and breakthrough artists will enjoy relaxing on the furniture between rehearsals, performances and the CMA Awards. To get an up close and personal seat to "The 52nd Annual CMA Awards" and Big Machine Label Group's after party, enter to win tickets at Ashley HomeStore's A Night of Country Sweepstakes. For full details visit: https://www.ashleyfurniture.com/sweepstakes/anightofcountry.
Championing social, educational, environmental and health issues, Ashley HomeStore and its parent company Ashley Furniture Industries Inc. have devoted meaningful resources to support a variety of initiatives throughout their communities. Some of these efforts include: the donation of over 60,000 free beds and bedding to children in need, donating millions of dollars in furniture towards disaster relief for hurricane, flood and tornado victims, and creating the charitable music festival Ashley for the Arts, which raised over $535,000 for more than 50 participating school districts and non-profit organizations over the last year alone.
"The arts have the power to enhance society with extraordinary grace and incalculable value," said Todd Wanek, President & CEO, Ashley Furniture Industries, Inc. "Ashley Furniture has a long history of supporting the communities in which we serve; and we are excited about this partnership with CMA and Big Machine Label Group."
Ashley HomeStore is committed to being your trusted partner and style leader for the home. This commitment has made Ashley HomeStore the No. 1 furniture retailer in the U.S. and one of the world's best-selling furniture store brands with more than 875 locations in 49 countries. Start designing your dream home today. Visit Ashley HomeStore online at www.ashleyhomestore.com. "Like" Ashley HomeStore on Facebook, follow us on Twitter and Instagram , or see our design-focused boards on Pinterest.
Ashley Furniture Industries, Inc. (Ashley) feels that every person deserves more value for their money. Established in 1945, Ashley is the largest manufacturer of home furnishings in the world, and was recently named one of America's Best Employers by Forbes in 2017. From design through fulfillment, Ashley is committed to delivering the world's best home furnishing values, selection and service, and earning the loyalty and trust of its customers every day. Visit Ashley online at www.ashleyfurnitureindustriesinc.com and "like" Ashley Furniture Industries, Inc. on Facebook.
CMA Awards The first "CMA Awards Banquet and Show" was held in 1967. The following year, the CMA Awards was broadcast for the first time – making it the longest running, annual music awards program on network television. The CMA Awards have aired on ABC since 2006. ABC is the network home of the CMA Awards and CMA's other two television properties, "CMA Fest" and "CMA Country Christmas."
BIG MACHINE LABEL GROUP: Led by Founder, President and CEO Scott Borchetta, the Big Machine Label Group encompasses Big Machine Records, The Valory Music Co., BMLG Records, Big Machine Records/John Varvatos Records and publishing company Big Machine Music as well as its own digital radio station, Big Machine Radio. BMLG artists include superstars Taylor Swift, Rascal Flatts, Reba McEntire, Florida Georgia Line, Thomas Rhett, Brantley Gilbert, Lady Antebellum, Ronnie Dunn, Cheap Trick and Sugarland; chart-topping acts Justin Moore, Eli Young Band, Brett Young, Aaron Lewis, Midland, Carly Pearce; "The Voice" winner Danielle Bradbery and 2015 "American Idol" winner Trent Harmon. BMLG artists have received multiple GRAMMY, CMA, ACM, AMA, CMT, Teen Choice, MTV, Billboard, People's Choice and Brit Awards. Big Machine is the first-ever American label to align with terrestrial radio for performance royalty rights for its artists and is an industry leader in fighting for artist, songwriter, publisher and record company rights. Big Machine Label Group created the Music Has Value Fund to provide assistance to nonprofit organizations that make music, aspire to make music, and access and access and appreciate music. Visit BigMachineLabelGroup.com for more information.
Ashley for the Arts is a non-profit initiative that provides the entire family with world class entertainment, art, exercise and family fun for a remarkably low cost. It is also one of Wisconsin'slargest charity events, raising $535,500 in 2018 for 51 non-profit organizations, including participating schools, children's charities and medical research. This music and arts festival was conceptualized and established by Ashley Furniture Industries, Inc. (Ashley) in 2009. Today, more than 70,000 people attend the event held in Arcadia, Wisconsin's Memorial Park.
For more information on Ashley for the Arts, visit www.AshleyfortheArts.com. "Like" Ashley for the Arts on Facebook or follow us on Twitter at @AshleyfortheArt.
http://www.ashleyhomestore.com
---