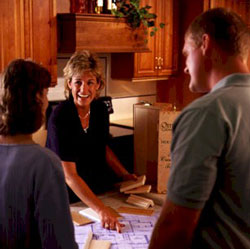 In its 25 years of existence, Omega Cabinetry has grown from meager beginnings in a small barn in the rural community of Washburn, Iowa to one of the leading manufacturers of all-wood cabinetry. Located in Waterloo, Iowa, in the heart of the Midwest, Omega Cabinetry boasts over 400,000 square feet of state-of-the-art production space (and growing) and more than 1,000 hard-working employees.
Omega Cabinetry was purchased in 2002 by Fortune Brands, a Fortune 500 company and leading supplier of consumer goods. Omega is an integral team member within MasterBrand Cabinets, the cabinetry division of Fortune Brands.
Dedicated to quality craftsmanship and superior service, everyone at Omega Cabinetry takes pride in every cabinet produced. From the select materials used to build the cabinetry to the multi-step finish processes applied to each component, Omega Cabinetry's quality is unmatched. And, backed by the most comprehensive warranty in the industry, there's no question that cabinetry from Omega is the best value around.