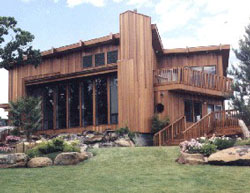 Superdeck Exterior Transparent Stains
Superdeck Exterior Transparent Stains are high solids, professional grade, exterior wood finishes developed to give superior water protection and beautiful color to exterior wood.  Superdeck Transparent Stains use the highest quality transparent oxide pigments to enrich the color of the wood and inhibit damage caused by the sun's UV rays.  When properly applied, surfaces develop excellent resistance to sun and water damage.  Superdeck will not track, and is resistant to foot traffic patterning.
This unique, one-coat system contains nearly three times the solids of most conventional oil base wood stains, offering excellent water repellency without beading, long-term lubrication and resistance to grain checking.  Superdeck creates excellent UV shielding properties, plus beauty and warmth by enhancing and protecting the natural grain, texture and color of the wood.  Superdeck contains a highly effective mildewcide to inhibit the growth of mildew on the stained surface of the wood.  The combination of these quality ingredients offers the consumer a superior, high quality, long lasting, total wood protectant.
Mason's Select Transparent Concrete Stain 
Mason's Select Transparent Concrete Stain takes advantage of the unique variations in color, texture and porosity of each different concrete surface.  It is designed to accent those variations with the same kind of beautiful multi-hued appearances found in many stone surfaces.  Easily create a personalized look for your home while providing a decorative and protective finish that is resistant to chemicals and hot tire pick-up. Start with one of Mason's Select 8 factory designed colors as a base color, then intermix any of the other colors to create your own custom shade.