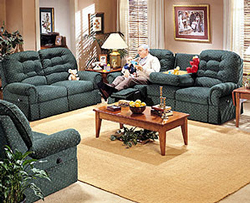 Berkline is world's largest manufacturer of reclining furniture and has innovated ideas such as Wall-a-way, Hideaway, Comfort Chaise, removable backs, and the Shiatsu massage recliner.
Berkline is firmly established as an industry leader offering a wide variety of styles and colors to complement your home and provide you with a total relaxation experience. Relax with Berkline...if anyone deserves it, you do!
Berkline furnishings are all about relaxation and peace of mind. That's why we offer a Manufacturer's Warranty you'll be completely comfortable with. Berkline provides a Limited Lifetime Warranty for the reclining mechanism, wooden fram parts, spring system, and sleep mechanisms. We'll also pay the cost of labor, shipping and handling to repair or replace defective part(s) for one (1) year from the date of orginal purchase.
We also provide a 5-year Protection Plan on all electrically powered freestanding recliners and all group related pieces that are electrically or manually operated.