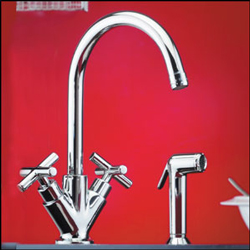 THE ART OF THE KITCHEN
A quiet cup of coffee in the morning.
A talk over tea.
Preparing a favorite recipe.
The kitchen is a place where the family - and company - congregates. It's where things take place and conversations start ... and sometimes heat up. Mico Designs kitchen faucets and mixers are more than a necessity in the kitchen. They are conversation pieces that speak of your good taste and appreciation for the art of the kitchen. These are a few of the conversation starters ...
THE ART OF THE BATH
Make a splash.
Make a statement.
And why not?
Mico Designs can fill your bathroom with more than just hardware. Imprint your own unique style. With Mico's comprehensive line of faucets, tub spouts, handles, pressure balance & thermostatic controls, shower heads, and all the essential accessories, you can make the statement complete. And with such a wide variety, there is surely a Mico design that fits your individual taste. Remember not all the finishes for all the products are shown. Be sure to ask your design assistant.
CHOICE
There is an expression that beauty is in the eye of the beholder. If you agree, owning a Mico faucet is truly owning a beautifully crafted work of art.
Art is - by its very nature - subjective. This is why Mico Designs offers you a virtually limitless choice of styles and finishes, allowing you to define the art of the bath your way.
Take, for example, the choice of handles. While some of Mico's designs feature handles that are integrated into a truly unique design statement, others offer as many as eighteen different style options. And while the choice may be varied, the criteria is not. Each and every Mico Designs faucet series is defined by an attention to style, scale, and proportion.
Please note that not all handle styles are shown or are available for every line. Refer to the price list for specific handle options for each series.