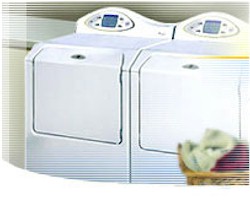 Maytag customers know that Maytag dependability means more than long-lasting appliances. They know they can depend on Maytag to come up with new innovations that will make their lives easier.

Innovation at Maytag is driven by extensive consumer research that identifies unmet consumer needs. Some examples are the Maytag® Neptune TL, a top-loading high-efficiency washing machine that completely does away with the traditional agitator that sits in the center of the washtub; the Maytag® Jetclean® II, the world's first dishwasher with three full racks; the new Maytag® range with 5.22-cu.-ft. capacity; the Maytag® Gemini® dual--oven range; and the Maytag® Wide-By-Side(tm) refrigerator.

Maytag also is at the forefront of the appliance industry in seeking stronger energy and water standards, and has worked closely with the U.S. Department of Energy (DOE) in creating new ENERGY STAR criteria for appliances.