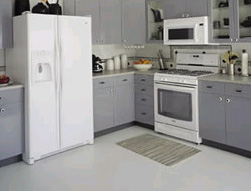 Amana was founded in 1934, in Amana, Iowa, when a young entrepreneur named George Foerstner accepted a challenge from a local businessman to build a reliable beverage cooler. Foerstner drew from the community's supply of highly-skilled craftsmen and expert cabinet makers and their meticulous and time-consuming workmanship on each unit became the hallmark of the Amana brand.

Foerstner expanded the business into refrigeration and later, room air conditioners. And in 1967, the company revolutionized the way America cooks with the introduction of the Amana Radarange® — the first countertop microwave oven for the home.

Today, Amana is one of the Maytag family of brands and offers a complete line of major appliances including refrigerators, freezers, dishwashers, wall ovens, ranges, cooktops, Radarange® microwave ovens, washers and dryers and dehumidifiers. We continue to build on our heritage of quality craftsmanship in our manufacturing plant in Amana, Iowa. And our research and development leads the industry in creating appliances that work hard and look good doing it.

Fact is, Amana appliances just make life better. They're full of thoughtful details you'll appreciate every day. For example, food that's easier to reach because we put the refrigerator on the top and the freezer on the bottom. Extra cooking capacity to entertain the whole crowd because our ovens have more interior room. And the convenience of leaving your family dinner instructions on our refrigerator's voice messaging center.

It's simple, really. Amana offers you everything you need in a stylish appliance without all the things you never use. It's the practical value you deserve. And it makes as much sense today as it did when we started in 1934.