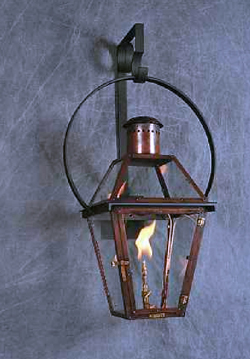 In the early 1940's an Italian immigrant named Andrew Bevolo, Sr. made his way from the northeast down to Texas. Bevolo found himself building Higgins Boats which were used during WWII. By the end of the war Andrew and his crew came down to New Orleans in search of work. In 1945, Bevolo Metal Crafts was started. Andrew Bevolo and his team had a business that did different types of metal work that included plating, polishing and re-wiring chandeliers among other things. When street lights fell or old English lanterns needed to be remodeled they were brought to Bevolo. These lights were coming apart due to the fact that they were soldered together. Bevolo used riveting to hold the lights together which proved to be a major break through in the gas lighting industry.

Some years later, A. Hays Town was walking through the French Quarter taking note of the beautiful architecture. While on his trip he heard the tapping of hammers coming out of Bevolo's shop door. Mr. Town stuck his head in and asked Andrew Bevolo, Sr. if he could make a light fixture. Bevolo replied with "if you can draw it, I can build it." An instant friendship was born, and the Original French Quarter Lantern was made. That same lantern has provided an ambiance that became synonymous with the French Quarter.

Bevolo Metal Crafts continued to grow into a lighting business that became very well known around New Orleans. As the years passed, Jim Bevolo would eventually take the reins and keep the company running by the same fundamentals that were taught to him by his father. Hand-riveting each light and using Bevolo's unique copper aging process, Bevolo continued to be the best gas lighting company in the business. Years again passed until Andrew Bevolo, III (Drew) was introduced into the company. Jim and Drew worked together to introduce Bevolo to the national market.

Bevolo, now under the control of its third generation, has become as recognizable in other parts of the country as it is in New Orleans. Today, Bevolo lights can be found in all 50 states and 28 other countries. With the fourth generation learning the same techniques that were applied in the middle of the century, the company is sure to always be true to its' roots, and make every light with precision and care.