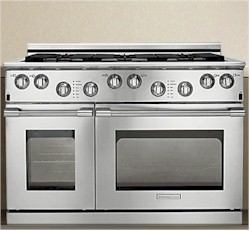 Uniquely crafted for those who are serious about cooking, Electrolux ICON™ professional series appliances conspire to make you the culinary master of all you create. Their bold look, expert design and exquisite details give you the confidence to display your gourmet artistry.
Dishwashers
Advanced dishwashing solutions with unmatched presentation. This is the kitchen that fits your life and the way you live it. This is an Electrolux kitchen.
Gas Cooktops
Cook with the precision of a professional chef. Our cooktops feature easy-to-read controls and the right burner for your every need. Adjust from a searing blue flame to a delicate flicker with a just single turn.
Ranges
Electrolux ranges are all about substance, power and control. You'll cook like a gourmet and bake with the precision of a pastry chef.
Refrigeration
Engineered for the highest quality food and wine preservation and water filtration, our refrigeration line adds professionalism to any kitchen. For a touch of personal style, you can customize the exterior to match your cabinetry.
Ventilation
Exquisitely designed, our range hoods can be the crowning touch to your kitchen décor. When you choose any one of our range hoods you can breathe a little easier.
Wall Ovens
These wall ovens have it all: Thoughtful design in exclusive Smooth-Glide™ racks. And innovative performance through the ability to bake conventionally and by convection simultaneously.