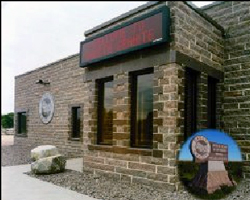 Call
Tel: 800-843-3333
Fax: 800-338-5346
Write
Dakota Granite
301 South Main Street
PO Box 1351
Milbank, SD 57252
United States of America
Online
In The Beginning - Dakota Granite Co. was incorporated in June 1925 as a wholesale quarrier/fabricator of Dakota Mahogany monuments. Our first payroll paid seven employees who worked at a shop and quarry six miles east of Milbank, South Dakota, in the heartland of America.

By 1927, the employee roster had grown to 20 with sales topping $50,000. The following year saw the first building addition that would begin a pattern of growth that has not stopped. The company presently employs approximately 100 people.

Monumental Growth - The growth of Dakota Granite Company until 1965 was attributed to the making and selling of monuments to over 2,500 retail granite shops throughout the United States. Since that time the sale of rough granite building blocks has become a growing market and fabricators from as far as Italy, Japan, China, and Malaysia are becoming frequent visitors to this little village on the plains of South Dakota, to purchase granite with Dakota Granite's unique, warm blue/brown colors.

Dakota Granite Today - Today, Dakota Granite Company is a full production facility. We quarry, manufacture and sell slabs, monuments, mausoleums, columbariums, civic memorials, blocks, and fabricate custom countertops, feature pieces and building projects. In December of 1998, we completed the construction of a new all granite office facility located next to our manufacturing plant. Due to company growth and the ever changing face of the granite industry, 2005 brought exciting changes to Dakota Granite. We have diversified and re-aligned to continue our commitment of excellence to you are customer. We now have two separate divisions. 1: Commercial Sales and 2: Memorial Sales. Both divisions will continue delivering quality products based on our founding family business philosophy and history of customer excellence. These entities have dedicated teams of full service sales, design, manufacturing and support staff committed to providing you the best in the industry.

Today, Dakota Mahogany remains one of the most popular granites, not only because of the rich warm color, but because of its durability and inherent value. Dakota Mahogany is used extensively throughout the world in various building and interior design applications.

State of the Art Quarry and Manufacturing processes - Dakota Granite has always prided itself on its state-of-the art technology both in the quarry and in our production facility. In 2005, we purchased wire-saws that allow us to extract granite from of our quarries with less waste, dust, noise and better yields. As demand for Dakota Mahogany continues to rise as a result of international growth in the construction, tile and countertop markets, these wire saws allow Dakota Granite to quarry larger more uniform blocks that help us meet the demand of our domestic and international customers.

Our production plant has evolved into a "high-tech" production facility complete with computerized wire saws for cutting any shape imaginable. From the shape of states to guitars to motorcycles, we've cut just about anything you can imagine out of granite. Like our computerized polishers, these wire saws run day and night giving us one of the most advanced granite manufacturing facilities in the world.