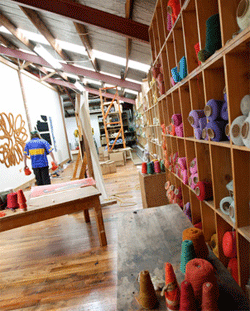 Write
Dilana Rugs
50 Salisbury Street
Christchruch ,
New Zealand
Dilana Rugs is closely affiliated with New Zealand's wool industry. Hugh Bannerman, the founder of the company, worked on his family's sheep farm until he was in his early twenties, primarily in the selection and breeding of sheep to supply wool to the carpet industry.
In 1980, Bannerman moved to Christchurch to further his studies in woollen textiles and began his initial rug-making career. By 1983, with support and assistance from the wool industry (in particular wool research testing laboratories) he had identified standards and established his desired product quality — these same high standards are still in place today. He was the first rug maker in Australia and New Zealand to be granted the International Wool Secretariat "Woolmark" label for quality.
Today almost all production from Dilana Rugs is designed by fine artists, either as unique pieces or limited editions for exhibitions, or as designs commissioned for specific floor areas. Over the past 20 years fine pieces of work from our collection have been selected for heads of state and royalty.These include: Pope John Paul II, the late Rajiv Gandhi, HRH Prince Andrew and the Duchess of York, Queen Margrethe II of Denmark, King Baudouin of Belgium, President Bill Clinton and the President of Turkey.
Dilana's philosophy embraces principles of both art and function.