Call
Tel: 201-330-1001
Fax: 201-330-0878
Write
Bashian Bros
100 Park Plaza Drive
Secaucus, NJ 07094
United States of America
Nearly three-quarters of a century ago, a young Armenian immigrant named George Bashian (the name rhymes with fashion) began a business in oriental rugs. The year was 1931-the heart of The Great Depression.

An energetic man who always took joy in his work, Bashian - with his charming, heavily-accented English - offered an enthusiasm for rugs that his clients found delightfully infectious. Blessed with enormous love, appreciation and understanding of these beautiful treasures, George bought exceptional old and antique rugs, which he then repaired and sold. From the start, Bashian had an eye for that "special rug," and he also possessed a keen comprehension of the tastes and trends of the public at large. In what was to
become a company policy-and a standard for the industry to match-Bashian bought shrewdly, sold fairly, and insisted on complete customer satisfaction. George was also an innovator: he was the first rug dealer, in fact, to advertise in the Yellow Pages.

Bashian's business prospered steadily, even during the difficult years of World War II. As George's reputation grew, he conceived the idea of providing large assortments of rugs to the key "carriage trade" department stores of the day: McCreary's in New York City, Gimbels in Philadelphia. His plan was simple: George offered the product and the expertise, while the stores provided a first-class selling environment, along with advertising and promotion. (This kind of cooperative effort between wholesalers
and retailers is standard practice now; in the decade following WWII, however, it was innovative and revolutionary.)

During the 1950s and 60s, Bashian broadened his concept by introducing larger and more dramatic displays and by teaching the store's sales staff everything he knew about the beauty and history of oriental rugs. Little wonder that, under George's guidance, the stores' rug sales grew remarkably.

Up until the 1970s, most oriental rugs came to the United States from the Middle East. The turmoil that roiled that part of the word during this decade pushed the rug industry-long dominated by Persian rugs from Iran-toward radical change. George Bashian anticipated this change by early establishing contacts and then developing rug collections from countries such as China, India, Turkey, Pakistan and Afghanistan.

This decade of change also saw a new generation join the company. George persuaded his son, George, Jr., to leave a successful career as Federal Prosecutor in New York City and join Garo Bashian, a cousin who had inherited his uncle, George, Sr.'s, passion for rugs, and who had already come aboard. Garo possessed the unusual ability to feel immediately at home in cities as disparate as Izmir, Delhi and Beijing. This helped him develop the wide variety and superb quality for which Bashian rugs are known today.

Ralph Bashian, Garo's brother, also joined the company's roster, bringing with him an encompassing vision, enormous patience and an aesthetic sense that would inspire a host of successful Bashian rug collections from India, China and Pakistan.

In 1988, Bashian moved its corporate offices and showroom into the sleek and spacious new Oriental Rug Importers Center of America (ORICA), located in Secaucus, New Jersey. From here, as well as from other major showrooms in Atlanta and High Point, retailers all across the country can order Bashian's many fine collections. (To find the retailers nearest you, simply click here for our Dealer Locator)

The turn into the 21st Century has brought even more change and excitement to Bashian, including the development of the firm's own design staff. Now, in addition to recreating beautiful historic designs and re-developing and re-coloring these for today's palette, the company can also create totally new designs for rug production. Bashian's talented design team can develop an idea from scratch and then produce it in various patterns and colorways. These designs are then sent overseas to be produced specifically for the US market.

Today Bashian imports its amazing rugs from China, India, Iran, Nepal and Pakistan, and George Bashian, Jr.-who has been in the business for thirty years-still finds his job an exciting one. "There is always something new to discover," he says, "even though we have been dealing with countries-and families in those countries-that have been making rugs for generation after generation. We think of ourselves as people who find and develop the beauty of oriental rugs. And then we bring that beauty to you."
---
Our Brands
---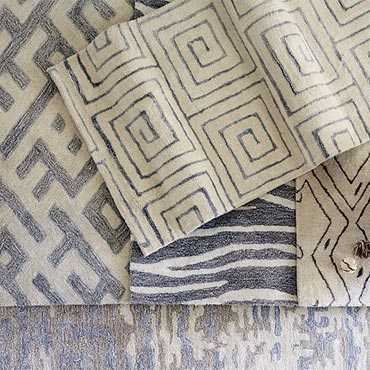 Bashian® Oriental Rugs
---
---
Profile
|
Website
With the finest collections of Oriental Rugs currently available, Bashian offers a wealth of subtle, elegant designs that span motifs from the traditional to the contemporary. Handmade in China, India and Nepal, the collections here provide a range of singular patterns, vivid colors and rich textures that will complement any décor.