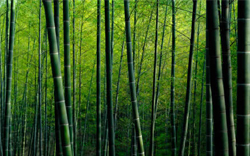 Call
Tel: 206-522-9789
Fax: 206-522-9758
Write
Bamboard USA
13730 Lake City Way NE
Suite A
Seattle, WA 98125
United States of America
Online
In 1998 two enterprising fellows from Seattle, Washington set out on a journey to China to learn about an interesting sounding new product called "bamboo flooring". Not by coincidence, the two met with a person known in many parts of china as the "Bamboo God". This moniker was bestowed upon him by members of the industry for his pioneering in the bamboo woodworking industry. This man is know also as Mr. Jacky Hong, a Taiwan native and son of Mr. James Hong who established the Chin Yung Company in 1956 in Taiwan. This visit took place in a small factory town of approximately 10,000 people located in the southern province of Guangdong some two hours by rail from Hong Kong.

After several days of meeting with Mr. Hong and his factory staff, Misters Charles McKern and Boyd Dobbins entered into a business arrangement and returned to Seattle and formed a business called Bamboard USA. They ordered their first container of bamboo flooring and began soliciting distributors to sell this great new product. The rest continues to be a great adventure.
With many trips further into china to such places as Sichuan Provinces' Bamboo Sea, the lessons of the expert were beginning to convince McKern and Dobbins that there journeys would be fruitful and of great benefit in their pursuit of knowledge about this wonderful and mysterious plant. Visits to door factories, paper mills, restaurants and forests, where this product is harvested would yield many stories of the vast variety of uses that the Chinese have found for this product. Scaffolding for high rise buildings, toothpicks, chop sticks, and now flooring, furniture, kitchen items such as bowls, cutting boards and a variety of gift items are all part of what is truly a great use of a natural, environmentally friendly, reusable resource. The imagination and expertise of the Hong family to design and create the machinery to produce these products is truly remarkable.

The bonds established between these two companies has allowed for the finest bamboo flooring and other bamboo products to be sold in the United States. No other two companies have established the quality control standards that exist between Bamboard USA and Chin Yung Bamboo and Wood Products Factory. Together, these two companies insure that the products brought to the U.S. consumer, equal or exceed the ISO 9001 standards held by the factory. Personal inspections have been and continue to be the trademark of Bamboard USA. No other importer of bamboo products conducts a personal factory inspection of the manufacture, packaging and shipping of all of their products. This is not done out of mistrust of our factory workers but out of care and concern for our customers.

After you read the Chin Kun story you will understand why Bamboard USA began their relationship with this company.

THE CHIN KUN STORY In 1956, James Hong established Chin Yung Machine Works in Taiwan for the manufacture and development of complete lines of bamboo woodworking machinery. Since then, Chin Yung has been recognized as a worldwide leader and innovator in the field of bamboo processing for a wide variety of items.

In the late 1980s Chin Yung began research and development on machinery that would utilize the bottom of bamboo poles. This resulted in the first line of bamboo floor making machinery, patented by Chin Yung Bamboo and Wood Company.

Sensing the growing need for environmental products, in the early 1990s Chin Yung established the Chin Kun Flooring Company for the promotion of bamboo flooring and related laminated bamboo products.

Chin Kun Flooring Company is headquartered in Taiwan and Dongguan, China, near the Hong Kong boarder. Our Dongguan export center allows our customers easy access to our factory via Hong Kong and allows us a variety of options for shipping.

Our sub-factories are located near the bamboo source in the provinces of Jiangxi, Hunan and Fujian. Here the best bamboo is selected, treated and hydraulically laminated using machinery and technology from Chin Yung Bamboo and Wood Company.

With nearly a half a century of experience in bamboo processing and over 15 years experience manufacturing bamboo flooring, Chin Kun Flooring Company is committed to the manufacture of only the highest quality flooring, and are proud of our reputation as a leader in the field of bamboo flooring.

Chin Kun Flooring Company is ISO 9001 certified.

BAMBOARD USA TODAY Today Bamboard USA, Inc. has the distinction of having sold flooring that has been specified or installed in buildings for such notable companies and locations as; Ritz Carlton, Four Seasons, Southern Methodist University, Texas Utility Building, IBM, Watermark Hotel and Spa, Rutherford's, Awalt Building, Celebrity Bakeries, Hilton Condominiums, Premier Club, Tin Star Restaurant, Goodbody Yoga, American Airlines Center, Austin Ranch Condominiums, Off Broadway Condominiums, Embassy Suites, Renaissance Hotels, Palazzo Hotel Venetian Casino Resort Las Vegas, Mandarin Oriental Hotel and Spa Boston, Equinox Fitness Center, Greenleaf Construction a Seattle green build contractor and LEEDS contributor. The quality and integrity of Bamboard USA has led to products being shipped to Japan, India, Dubai, the UK and back to China.