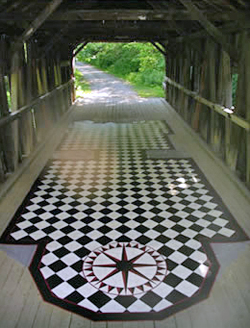 Call
Tel: (802)263-5410
Fax: (802)263-5410
A Canvasworks floorcloth (or floor cloth) is a painted canvas rug which is sealed with 5 coats of polyurethane.It is a beautiful, practical, long-lasting way to decorate your floor.

If you love the beauty of handcrafted things for your home, you'll love floorcloths. Do you enjoy watching and being a part of an artist's creative process? Explore our site and see how our customers have had the perfect floorcloths created for their homes by this Vermont artist. Are you searching for floorcloth-making supplies? If so, you've come to the right place.

For 14 years Lisa Curry Mair has been carefully creating painted canvas floorcloths, using time-honored techniques of painting and finishing.


She paints with a

• devotion to the craft

• skill

• a love of traditional techniques


Order the beautiful "Ornamental Checks" floorcloth today. Prices start at $400.


Lisa is spreading the word about floorcloths. As author of the book Floorcloth Magic, and as instructor at the workshops held at her Vermont studio, she educates others about her craft. She also demonstrates the practical use of floorcloths throughout her 19th century farmhouse and posts regularly on her blog, showing the steps involved in making some of the most intriguing pieces.