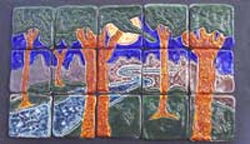 Write
A Workshop of Wonders
602 River Street
Missoula, MT 59801
United States of America
Artist-in-Residence: Grand Island, Lake Superior
Selected from a pool of applicants from all over the nation, Melanie Jeffs was delighted to serve as Artist-in-Residence with the Hiawatha National Forest of Michigan. Living at the historic Farrell Cottage on Grand Island during the summer of 2004, Ms. Jeffs experienced the island environment on a first hand basis.

From bike riding to the Northeast point to spending afternoons at Trout Bay beach, Ms. Jeffs had the opportunity to explore Grand Island. Sighting black bears, Sandhill crane, and nesting turtles by Duck Lake provided the background for extensive artistic research.

Approximately eight miles long and three miles wide, Grand Island is rich in both natural and culturally historic resources. Acquired by the National Forest Service in the early 1990's, Grand Island is a designated National Recreation Area. Special features of the island include lighthouses, dramatic cliffs, and a unique geological formation called a tombolo. The tombolo connects the main island body to a second smaller island body and creates harbor for Trout Bay and protects the opposite Murray Bay. Historically the tombolo served as the main residing spot of the Chippewa Native Americans who populated the island prior to the arrival of European explorers, French Voyageurs and fur traders.

Grand Island has been the base for a variety of human activities including Native American settlement, trading post headquarters, mining and logging exploits, game preserve development, and vacation resort development. Currently, Grand Island is a conservation area with the Forest Service maintaining historical buildings and protecting the wildlife and environment of the island. Grand Island is also a summer home to a group of families who have historical ties with the island from generations of activity there. Archaeological experts are studying the island and hold academic summer workshops there. Artifacts dating as far back as 2,000 BC have been found on the island.

Supported in part by the Hiawatha Interpretive Association, the Artist-in-Residence program provides an opportunity for artists to visit Grand Island and develop an interpretive artwork about the environment there. Educational outreach is part of the program too. Melanie Jeffs held a workshop for children focused on tile making, as well as giving an evening presentation at the Alger County Heritage Center. Ms. Jeffs is currently working on a handmade tile mural reflective of the Grand Island environment.