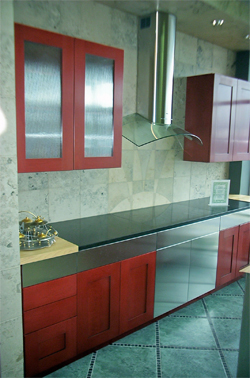 Call
Tel: 304-296-3243
Fax: 304-225-2090
Write
Davis Kitchen & Tile Gallery
831 Venture Drive
Morgantown, WV 26508
United States of America
Established in 1911 as F.E. Davis Tile and Mantle Company by Florence Edward Davis, the business primarily built fireplaces, then installed the tile, marble, and mantles around them.

In the 1930's his son, Henry Coleman Davis, took over the business and continued the traditional product line, but focused more on the growing popularity of ceramic tile. The business thrived as customers appreciated the combination of quality products and service.

It was the early 1960's when Henry Coleman Davis, Jr. stepped into his father's footsteps and set a new standard for craftsmanship in the ceramic tile industry. During this time many new tile manufacturers appeared on the market and introduced new products and methods, which Henry, Jr. readily incorporated into his company.

The year was 1989 when once again a new generation took the helm. Ed Davis, after years of apprenticeship under a master, was ready to lead a Morgantown landmark into a new century.

Realizing there was more to a home than tile, Ed Davis soon incorporated full lines of cabinetry and design services to accommodate the most discriminating customer. With new lines of product came expansion and a brand new location. Welcome to Davis Kitchen and Tile at the Glenmark Centre.